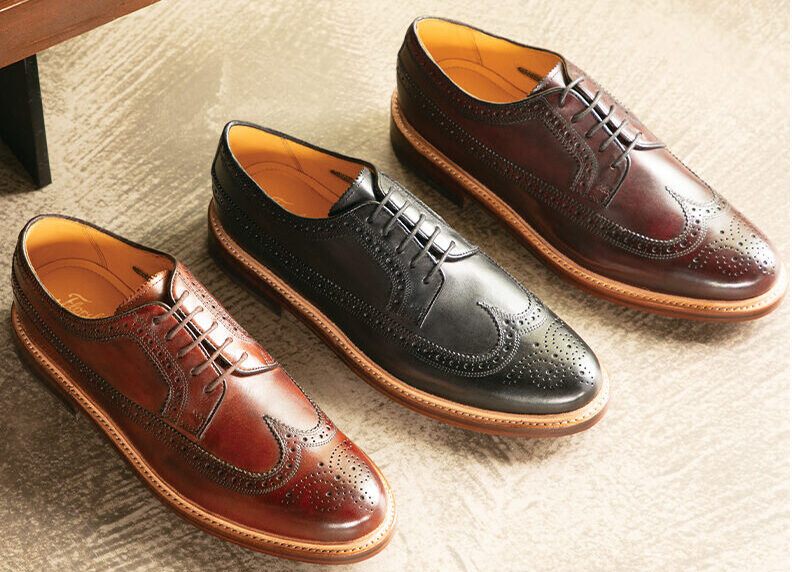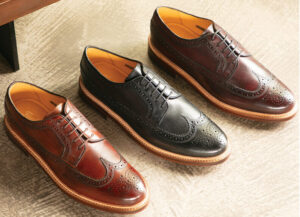 Shoes, gents, are meant to be serious business. Most men that are serious about their shoes identify a preference early on and rarely budge. Some like the weighty durability of English shoemaking. Rest others prefer Italian shoes for their sleek, lightweight shape. An increasing number think both preceding options can get stuffed, and find their footwear in emerging Japanese or Spanish markets but some people still looks for best Goodyear welted shoes.
Goodyear welted shoes were introduced in 1869 in order to manufacture long-lasting pairs of shoes which could be easily resolved and re-crafted to elongate the life of a single pair of shoes. High quality shoes are made from the best quality leather, with moderate use a pair of Good year welted pair shoes can be re-crafted 3-4 times.
Goodyear welted shoes have a channel which is the small trench where the stitching connects the sole and welt. If the channel where not closed; we would be able to see the stitching on the sole. Craft men of these cut shoes into the sole to create a leather flap under which the sole is sewn to the welt. This flap is then pressed closed to conceal the stitching inside the sole itself. Closed channel shoes have a dressier look and require a higher level of craftsmanship.
Essentially, a strip of leather is stitched to the shoe upper which leaves a welt upon which the sole is then stitched. Therefore, a space between the insole and the outsole is filled in with a cork mixture that will then be enclosed between both leather soles. This particular way of manufacturing shoes will enable easy resoles as well as having a cork filling than is moulded to the wearer's particular foot shape.
Best Goodyear Welted Shoes Reviews
Anthony Roosevelt Men's Goodyear Welted Shoes Feature
Some Benefits of Goodyear Welted Shoes
They are many reasons to buy Goodyear welted shoes. But we have made a short list of 3 solid ones. This will change your mind up about expensive shoes in a jiffy.
Weather Resistant: Men who wear Blake stitched shoes in the rain or snow often complains about their feet getting wet. Why? Because you've got the upper directly connected to the sole, and all that's connecting them is a thread. That's your only line of defence against the elements. Goodyear welt shoes construction, on the other hand, does not provide an easy path for water into the shoe.
Hardwearing Shoes: Goodyear welted shoes are built for a man who plans to own his shoes for a long time. He wants shoes that are of good quality material and top-notch construction. He gives them the tender loving care they deserve and prefers shoes that are easy to resole. This last point in particular makes Goodyear welted shoes the obvious choice.
The manufacturing process for Goodyear welting is one of the most expensive ways to make shoes – so it's chosen by manufacturers who spend a lot of money on materials, as well as on the craftsmanship and detail that go into the work. They're spending so much on that labour that it makes sense to go ahead and spend extra money on the materials. So they do. And it shows.
Resoling Shoes: Goodyear welted shoes are the easiest to resole and can be resoled many more times than other types of shoes.
When it comes to Goodyear welted shoes, not only is the resoling going to be easy because the stitching is on the outside, but as long as the upper stays in great shape you can resole them as many times as you need to. You're simply replacing the sole. You're also going to replace the welt – but the upper is going to stay intact.
Why you should buy Goodyear Welted Shoes?
The Goodyear Welt construction method provides a whole host of benefits that your average pair don't possess. Their longevity is unmatched as the sole can be re-stitched later in the products lifecycle to bring new life into them at a fairly easy expense.
The layers between your feet and the ground offer support and comfort whilst the unique stitching provides water resistance as there are no small holes leading to the inside of the shoe. This also differs from the Blake construction as the stitching can often be felt underfoot. Another bonus is that the cork filling will mould to your feet over time and provide a better and more comfortable fit.
The upper will need to be made of quality leather so that the stitching can be as close to the edge of the material as possible. This means that when you purchase Goodyear Welted shoes, you can almost guarantee that you'll be buying into a well-constructed and superior product.
If you really value water resistance but you don't want to walk around town in galoshes, it's a good idea to ask for boots with a Goodyear welt. This refers to the way the leather upper is attached to the sole. With sneakers, they're glued on. With dressier shoes you'll often get a Blake stitch, which means they're stitched on. Goodyear welts have both the upper and the sole attached to a layer of material (usually leather) that sits between them. The process leaves a telltale line of stitching running around the perimeter of the boot.